Post by wocadmin on Feb 19, 2018 12:47:01 GMT -8

This little known and by Challege only, event occurred Sunday . Participants were a Challenger, BMW and an old Corvette.
It lasted about 55 miles, more or less on a really really nicely surfaced country road in the southern part of California. The Challenger did exactly as its' name implies by suddenly appearing in the rear view mirror of the old Corvette, which had been enjoying a beautiful sunny morning on what rapidly turned into a superb road for exercising suspension and handling components of a the old Corvette. Of course it included some extremely long straights also.
Having barely turned off US 101 and thinking about how much better the country looks with a lil green showing thru the brown of winter my eyes was drawn to my rear view mirror by the sudden arrival of a blacked out Challenger. He remained in that position only long enough to check for passing and around me he came, broadcasting his exhaust music loud enough that I was sure to notice. And I did..I love having a rabbit lead the way since in my more mature years now, I have come to realize that often , it is just as much fun knowing it was not me that might perhaps draw the first look, shud we come upon a tax collector. We came upon three vehicles that must have been doing close to 25 miles per hour considering how fast we closed upon them..The Challenger again , exercised a bit of caution and then proceeded to play his tunes for the three in front of us. The middle vehicle was a white BMW, model unknown, and immediately, as the Challenger passed, fell in behind it and in front of me..I Had forgot to mention that I had stopped earlier for a photo op as I had came across a small lake/reservoir .This will give you somewhat of an idea of the look of the area...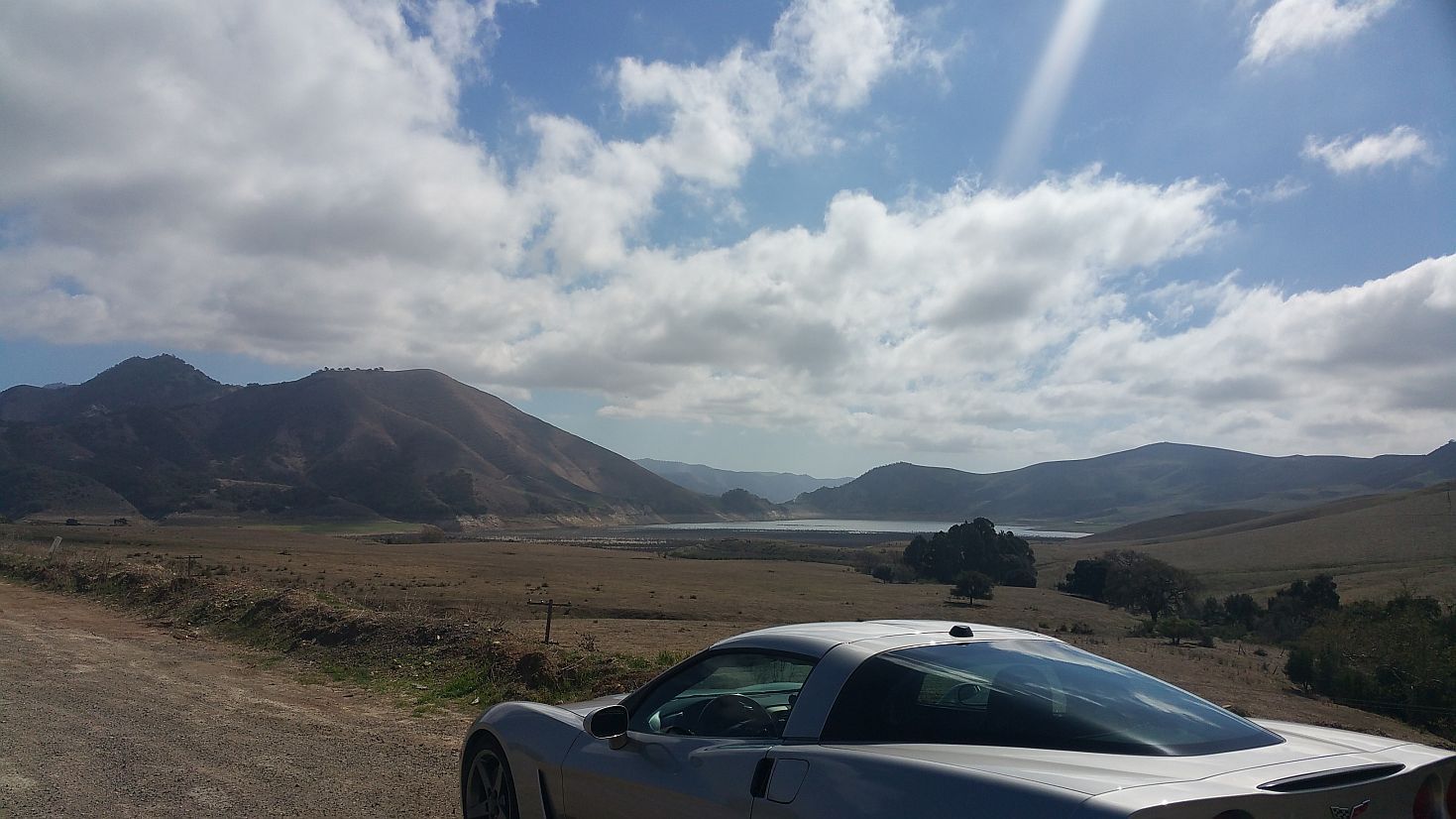 WEll now , the three of had a very good run for quite some distance, making sure to allow safe passing of the few vehicles we came across and taking a good look at the five building community in the middle of all this country, as two sheriffs cars were parked at the lil store/cafe . It was soon after this that we began to descend about 1500 ft towards Maricopa and I discovered a very interesting fact about the Corvette..We had caught to vehicles as we bagan the drop down the hill and almost immediately came to a passing lane which the Challenger headed onto with the BMW and old Corvette following with a nice safe cushion between cars.. since we were going down a 7% drop with a couple of turns thrown in , it was not possible to see ahead as to how much PL was left. just as I passed the slower vehicle , it became obvious that we we entering a decreasing radius. Downhill, on the gas and tightening up the turn..I guess the Corvette computer thought better of the situation and it "took over" .. Weird and a bit crude as it resembled the feeling one gets when stabbing the brakes rapidly at speed on a non-abs vehicle...
As we pulled up to the stop sign where 33 heads north and 166 heads east , I was in the left turn and got a wave from the BMW driver as he was going straight..The Challenger had pulled in to gas up or something and I continued on North on 33..I love traveling those "side roads" and avoiding the freeways..33 Rambles along with slight rises which are just enough to hide an oncoming vehicle . At least that is my excuse for spotting teh Black and White while still at a bit over teh suggested speed . And..as they are often do, he decreased his speed rapidly and so did I, pulling to the side of the road and stopping directly across from his position. He went ahead and swung over behind me as I shut off the motor, radio, and rolled down both windows. As he approached, I placed both hands at the top of my steering wheel.. He stepped up to my window and said
" Well you're no fun at all ! "
I chuckled and said
" before we get into this, I have a CCW and have two loaded weapons, one in teh console and one in the glove box. What would you like me to do ?"
He actually laffed and said
" I would like you to leave both hands right where they are.."
He then asked where I had been and where I was going, I told him and he suggested politely that I slow down a bit.. Of course he let me take of and then followed me for about five miles LOL or maybe he was just going in my direction

Sometimes attitude works..as long as it is the right kind..