Post by wocadmin on Jun 2, 2019 20:37:43 GMT -8
Redding Ca. Drag strip June 2
2013 Zx14R
17/41
Metzler Sportec at 18 rear
Alienhead 2 and Guhl flash
Power Commander V
Rev 2 Throttle
Bike is lowered approx 1 3/4 inches front and back
Full tank of 89
21000 miles om the bike.. a LOT of it at teh strip
Foot shifting ( Messed up shifter last week so disconnected it )
Dressed to ride at `138#
Temps Sunday race were low 90s...
Sat Ist race event I had to learn foot shifting all over again.. I was not just bad but really bad.. Wheelies in first three gears , sometimes pretty big..As a result I had three runs that were all in the 10s and as much as .7 apart.. As soon as I was eliminated, I was able to rotate to test and tune.. transferring to teh Street legal racing at 6 pm.. I started to concentrate and try to remember teh necessaries..Performance got increasingly better and last three runs of teh nite were 9.95.....,9.97.....9.89 with mph 147.. I felt pretty good about teh consistency even tho my performance had been faster at my previous events ( only two this year IIRC. so far ) too much weather..
Ok so moving on to today..Sunday.. Blew first Q run with very ugly wheelie/missed shift combo. told my self to settle down and not push so hard and to except whatever I could come up with .. Worked out pretty good as my second Qualifier placed me right behind teh Number 1 who did a .000 just to let us know he was serious. These three slips were my Q2 run and my two wins..I totally blew my concentration and lit teh red in the finals..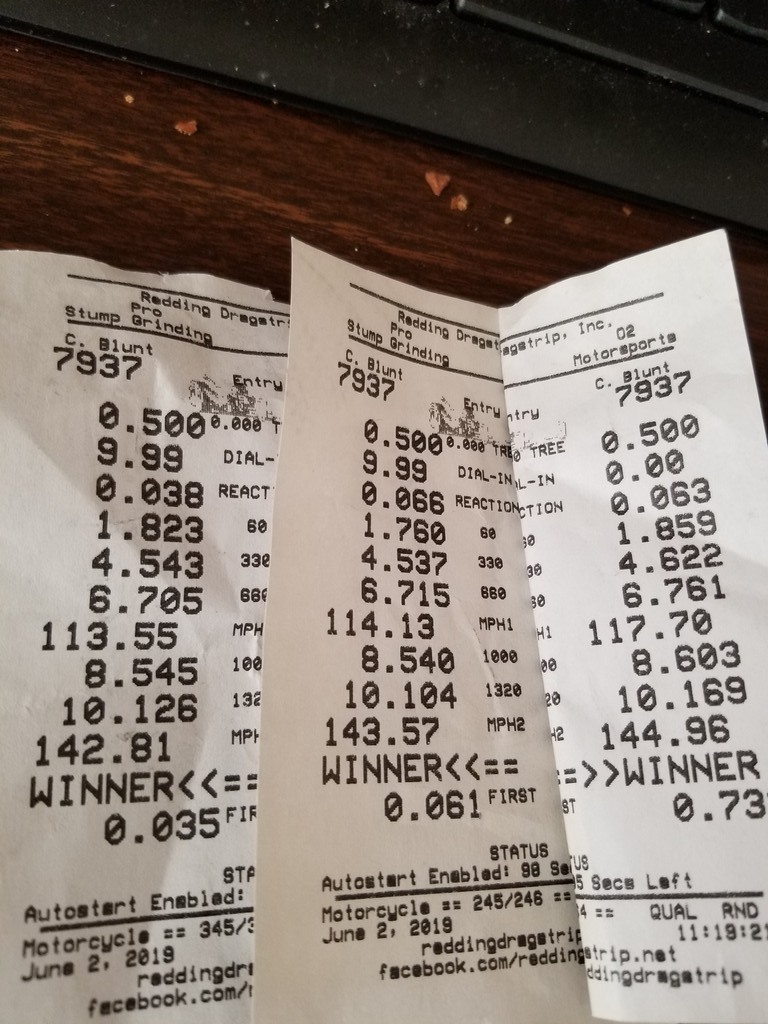 I know in this game we are varied in abilities , knowledge and stuff .. I think , for me, I have to anticipate what the bike will run on a given run and ride to that expectation ..Does that make any sense ?...I have been thinking almost every run " This could be my next goal which is 9.50" Sat nite, I just tried to smooth out my runs and all of a sudden I get two sets of three runs that are the tightest possibly that I have ever done..
One passing shot...The two passing wins came against a SWB turbo busa and a wheelie bar/nitrous busa...The loss in the finals was to a ZX14 with the goodies.